Delivery Information
Order by 2pm Mon-Fri for FREE next working day delivery within UK mainland, excludes Scottish Highlands and Islands.
Orders placed after 2pm Friday and over the weekend will be delivered on Tuesday or Wednesday, if it's a Bank Holiday on the Monday.
Safe & Secure Payments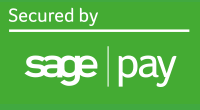 Sage Pay is the easy way to pay for your products. No need to register and payments are quick, easy and secure. The price you see is the price you pay, except NI, Scottish Islands and Highlands.
Payment Cards Accepted